Suwanee - 2,704 SF Office Condominium FOR SALE - Near I-85/Satellite Blvd./Old Peachtree Road NW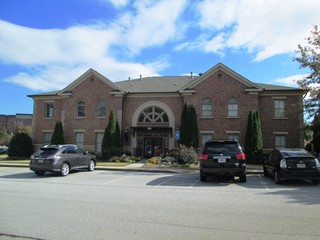 Location:
Suwanee, GA
* Point your mouse cursor on the picture above to see additional photos. Please look for the arrows and click on the "right" arrow.
Please call 770-241-5658
Description
• Offered at $375,000
• The Gates at Sugarloaf located at a highly sought after part of Gwinnett location near Sugarloaf, Infinite Arena area
• Ten (10) individual offices
• One (1) conference/training room (one of the ten individual offices)
• One (1) break room
• All restrooms are in the common area
• Efficient layout
• Exceptionally easy accessibility to major roadways and interstate
TAX / OFFICE PARK ASSOCIATION FEE:
• Tax Year 2017: $4,468.10 per year
• Office park association fee: $7,179.72 per year
LOCATION HIGHLIGHTS:
• Convenient access to I-85
• One mile from Exit 109/Old Peachtree Road
• Immediate access to Satellite Blvd
• 0.6 ± mile north of the intersection of Old Peachtree Road and Satellite Blvd
• 2.2 ± mile south of the intersection of McGinnis Ferry Road and Satellite Blvd
Please call 770-241-5658
All information above has been obtained from sources believed reliable and is subject to change without notice. No warranty or representation, expressed or implied, is made as to the accuracy of information contained herein. It is the responsibility of each prospective tenant and/or buyer, or any interested party to independently confirm its accuracy and completeness of any information.
Please call 770-241-5658
Ben Choi
Coldwell Banker Commercial Metro Brokers
#6783204800
1325 Satellite Blvd., NW #1507
Suwanee, GA 30024
View Map
ID#: 55343530
Location: Suwanee, GA , 30024
Address: 1325 Satellite Blvd., NW #1507, Suwanee, GA, 30024, US